Hampton University Business Incubator
Contact Information
Hampton University Business Incubator
6 W County Street
Hampton, VA 23663

Phone:
757.722.9283

Fax:
757.224.4285

The Hampton University Business Incubator is a project developed in partnership between Hampton University and the Hampton Community Development Corporation (HCDC). It was constructed utilizing funds made available to the HCDC by the US Department of Housing and Urban Development and the U.S. Department of Health and Human Services.
This partnership has been joined by the City of Hampton, Virginia. By doing so the City of Hampton continues it's long standing commitment to support and encourage the location, development and growth of businesses in the City of Hampton.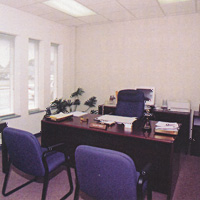 The purpose of the Business Incubator is to provide space and nurturing services to new and small businesses during their critical early existence. In addition to office space, the Business Incubator provides advice, technical assistance, counseling and other services on-site that are often unavailable to new or small businesses due to their cost and/or the location of their offering.
Office equipment is available to Incubator clients. Additionally, the Business  Incubator operates as a Business Resource Center and contains a library of publications useful to the emerging entrepreneur.
Lunch Hour seminars are presented during which selected topics are discussed which relate to practices, methods and procedures that are necessary to stay in business and to become successful business persons.
Related Information